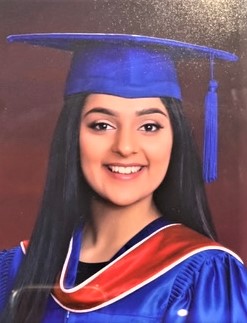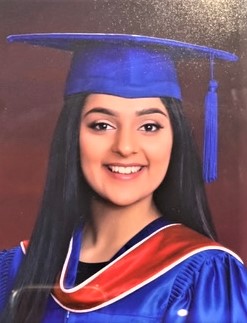 Your native place/Parents` background
I was born in Santa Clara California but grew up a majority of my life in Canada. My mom is from Chandigarh and my dad is from Amritsar. My mom had moved to the United States when she was 18 and my dad to Canada when he was 20. Presently, we as a family call Calgary as our home.
What are you doing and your career goals?
I am in the 4th year of Kinesiology (The study of the mechanics of body movements) and also doing double Major in Finance from the University of Lethbridge.
Any regrets
I am blessed to say that I have no regrets in life! I have a roof over my head, food on my table, a place to sleep, and a very supporting and loving family. Thanks to God.
Your proud achievements
For one of my achievements I was lead to hard work and contribution, and I had gotten an award for many years of outstanding leadership within my community and school.
Did you experience discrimination at any level?
I have not been discriminated before thankfully.
Are you happy in Canada?
Very happy and fortunate.
Why?
I think a benefit of Canadian culture is that Canada provides its citizens the opportunity to take part or even represent their culture. So any Canadian citizen has a freedom of religion, speech and beliefs.
Your comments on Canada's weather?
In my opinion Calgary weather is absolutely horrendous. It's super bi-polar. And I personally do not enjoy it at all. Except for the summer because that's when it gets really warm in the City.
Your comments on Canada's culture?
When I first moved to Canada, I thought making friends and representing my religion and traditional values was going to be hard because I am a very cultural girl. The respect level for my values is on a very high scale for me personally. But, in reality when I got here I learned the fact that Canada believes in a lots of diversity! Which is super heartwarming because you have the freedom of showing and representing your cultural and traditional values.
Are you happy in Canada?
Of course.
Why?
Because I am a young adult pursuing my studies, I don't have a lot of hand in this sort of work but I do have my voice and equipped to help out any immigrant. For example, if there is an immigrant who does not speak English and turns out to be a Punjabi speaker, I would definitely help them out with any questions or concerns they have and even help them to guide about the resources available.
Your message for Indo-Canadian youth?
You should feel comfortable and very confident to take advantage of the the religious freedoms you have been given and have fun! Also since our country is a diverse one, you should have the same rights as any other citizen in Canada and if anyone tries to discriminate you, tell them! That they do not have the right to say that because they are forgetting that they live in the country of diversity which practise multiculturalism. Young adults have humongous avenues to grow. Stay focussed and be compassionate.