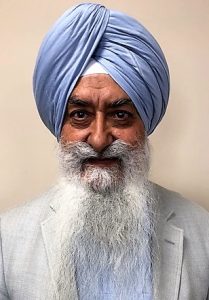 Native village/Country, parent's background
Kala Sanghian, District Kapurthala, Punjab, India. My father served in British Army in World War2 and was imprisoned in Japan for five years. On his release in 1945, he boughtland in Uttar Pradesh, India and settled there. My mother was homemaker.
Your early education
I completed Matric from the village Govt School, Bachelor of Arts from Randhir College, Kapurthala and Masters with major as Economics from DAV College, Dehradun.
When & why you came to Canada?
1972. My cousin, Inderjit Garewal persuaded me to come over and settle in Canada. I entered Canada as single and got married later on.
Your career advancement initiatives and present occupation
Life was not easy. I worked as labor at Kitimat, B.C. Drove Cab as well. Also, worked as Welder. I along with my partners, also operated Asia Export Home at Edmonton. Finally, I secured Canada Post job and worked there from 1980 to 2007. I am retired and fully immersed in community work. At present, I am President of Gurudwara Singh Sabha, Edmonton.
Your regret in life
I always had the quest to join Indian Army. In spite of clearing all written and physical tests, I was checked out on medical grounds.
Pick any one of your the best achievements
I had been an ardent sportsman and Bhangra performer.I performed in Bhangra team in 1976 Montreal Olympics and it is still a matter of great pride for me.
Were you ever discriminated?
Nothing to mention.
What you miss in Canada?
Like any other immigrant, I miss the great memories of back home.
Are you happy in Canada?
Absolutely.
Why?
Community work always give me kick. With the blessings of Waheguru, we hosted first Nagar Kirtan in 1999 and also established Edmonton Khalsa School in 2001. These initiatives brought me immense happiness and my ongoing volunteer work adds tinge to my happy and contented life.
Any comments on Canada's weather
I have weathered the harsh winters of Canada and never had any complaint. However, age is catching on me and now at the age of 70, I do feel it's difficult to bear bone chilling season.
Any comments on Canada's culture
World is Global village and whatever good or evil the culture offers, it's Omni present, Our youth is going astray for which parents are blamed equally. Religion is getting defeated by the allurements of modern society. I fail to understand, what strategies our Gurudwaras should adopt to bring back the innocent kids and teach them our Gurus' enriched teachings.
What brought you success in Canada?
There is never short cut to success. Perseverance, resilience and integrity are the mantras to sustain and grow. I practised the same and remained focussed on my goals. However, you need the valuable support of your significant half at every step in your life and for that matter, I thank my wife, Jasbinder Kaur Sangha.
Are you willing to help new immigrants?
Always.
How?
I along with my colleagues provide useful guidance and also connect with local authorities. We do help genuine students to meet their essential needs. It is very pathetic to lose dear ones on foreign land. However, in case of exigencies,we do assist the needy and helpless to meet the funeral cost and other incidental expenses.
Your message for Canadians of South Asian origin
Canada is a beautiful country and we must be law abiding citizen to maintain her sanctity. We should be inclusive and embrace every ethnicity with open arms. No religion teach violence and hatred. Our Gurus have taught "Sarbat Da Bhala" and we should always serve the humanity to the best of our ability. Do volunteer in whatever way you can. Preach and practise honesty. Love and affection towards all contribute to good Karma.