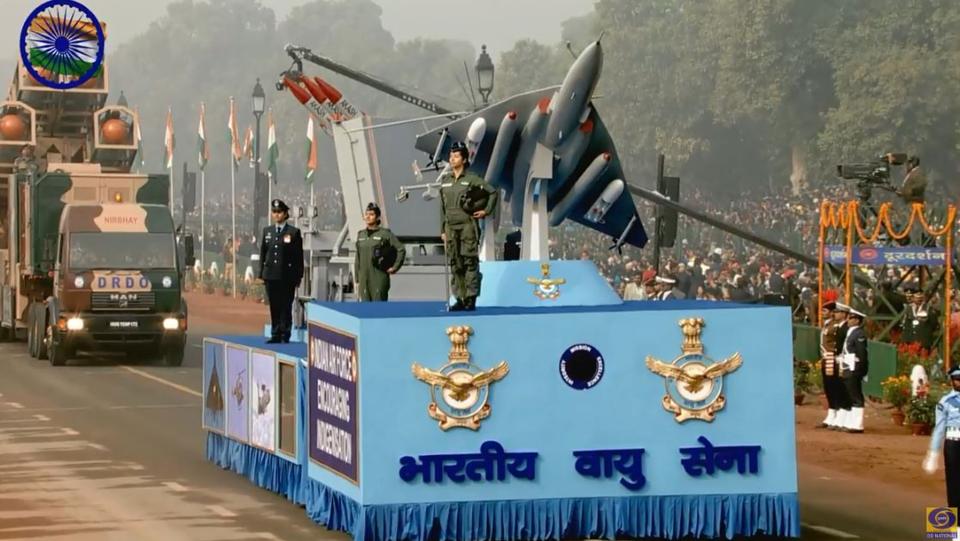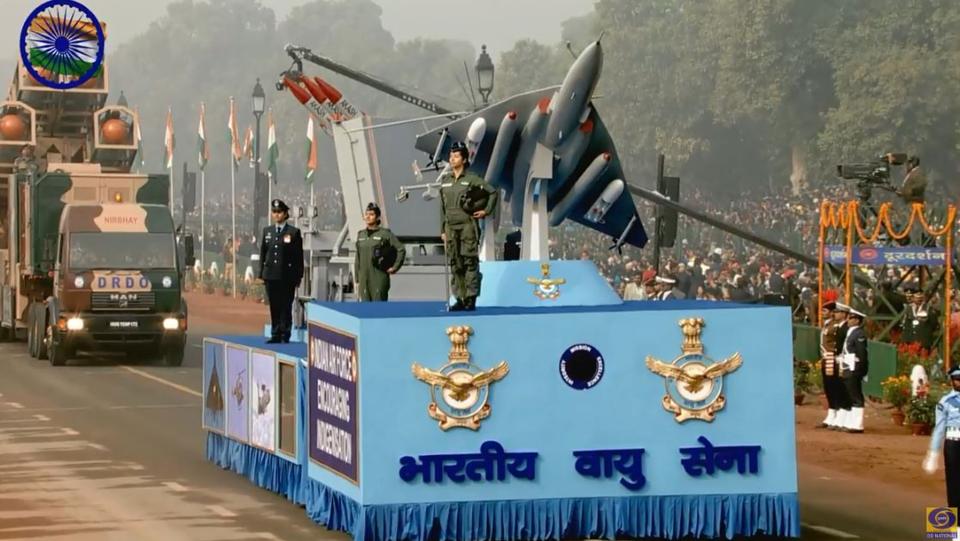 Prime Minister Narendra Modi is hosting leaders of 10 ASEAN countries at the Republic Day parade that being held at Rajpath today. Here are the live updates.
New Delhi : As the country geared up for the 69th Republic Day celebrations, Prime Minister Narendra Modi greeted citizens on the occasion on Friday.
"Greetings on #RepublicDay. Jai Hind (sic)," the Prime Minister said in a tweet.
India is showcasing its military prowess, culture and diversity in the presence of leaders of the 10 ASEAN nations who are attend the event at the Rajpath as chief guests.
The city has been wrapped in an unprecedented security blanket with thousands of security personnel keeping a hawk- eyed vigil to prevent any terror strike or untoward incident during the celebrations.
11.05am: "It's time to play and have some fun," says a tableau by sports ministry on its scheme "Khelo India". The Income Tax India department tableau flashes its Operation Clean Money scheme.
11.03am: Ministry of Tribal Affairs tableau showcases its landmark scheme for minor forest produce sector – Uchith Dam Hak Se Maang.
11.02am: Gujarat tableau pays tribute to Mahatma Gandhi on completion of 100 years of Sabarmati Ashram.
11.01am: Manipur tableau tales the tale of Khamba and Thoibi – a story of youthful love.
10.56am: While Assam tableau reflects the traditional masks of the Satras, that of Kerala –the God's own country — depicts Kettukazcha, an offering of devotees associated with the temple festivals and farming community.
10.51am: Through the tableau, Lakshwadeep spreads islands of joy. Maharashtra tableau depicts the coronation of Chattrapati Shivaji Maharaj and Chhattisgarh tableau showcases Ramgarh's ancient amphitheatre.
10.50am: Tableaux of Dev Bhoomi Uttarakhand with its focus on rural tourism and Jammu and Kashmir march on the Rajpath.
10.45am: The Tableau of Akashvani showcases the historic journey of more than eight decades of public service. The logo of AIR is Bahujan Hitaaya Bahujan Sukhaaya is displayed on the rear.
10.36am: The Delhi Police band leads the Delhi Police marching contingent whose motto is Shanti Seva Aur Nyaya, followed by NCC boys and girls and the National Service Scheme.
10.30am: The foot contingent of Border Security Force leads the marching contingent of paramilitary forces. Then comes the camel mounted band of the BSF, the only one of its kind in the world, is playing "Ham Hai Seema Suraksha Bal.
10.28am: The tableau — 'Indian Air Force Encouraging Indigenisation'—takes part in the parade. Three women officers are part of the tableau.
10.26am: The Naval Brass Band marches in, playing the captivating tune of Jai Bharati.
10.20am: The Dogra Regiment's war cry is 'Jwala Mata ki Jai'. They stand for "Kartavyam Anvatma", which means 'Duty before Self'.
10.14am: The famed Brahmos Missile System of 881 Missile Regiment, the only super sonic cruise missile in the world. It's motto is "Sarvatra Izzat O Iqba".
10.11am: 61st Cavalry led Capt. Deepanshu Sheoran is the first contingent to march towards the saluting dais, followed by Infantry Combat Vehicle Ballway Machine Pikate-II of 12 Guards.
10.05am: President Kovind gives away Ashok Chakra, India's highest peacetime military decoration, to wife and mother of Corporal Jyoti Prakash Nirala, a Garud Commando of the Indian Air Force (IAF) who died fighting terrorists in Jammu and Kashmir.
9.58am: Prime Minister Modi receives President Ram Nath Kovind at Rajpath.
9.54am: Former President Pranab Mukherjee hoists tricolour at his residence, and wishes the citizens a happy Republic Day. "Let us all reaffirm our pledge to uphold the ideals enshrined in our Constitution & work towards a strong & prosperous India," he says.
9.50am: Odisha governor SC Jamir unfurls tricolour in Bhubaneswar, chief minister Raman Singh hoists the National Flag in Bastar.
9.45am: Leaders of the 10 ASEAN nations have started to arrive at Rajpath. They are being welcomed by Prime Minister Narendra Modi.
9.33am: President Ramnath Kovind's car to be escorted by the CO and 2IC of PBG on their horses Virat and Vikrant.
9.28am: Prime Minister Narendra Modi and three Service Chiefs pay homage at the Amar Jawan Jyoti to commemorate the indomitable courage of the Armed Forces personnel, who have made the supreme sacrifice in the service of the motherland.
9.10am: Union home minister Rajnath Singh unfurls tricolour at his residence in Delhi, Assam governor Jagdish Mukhi hoists National Flag in Guwahati.
9.08am: India celebrates 69th Republic Day today. But how much do people know about the function? Hindustan Times asked people in different parts of central Delhi if they knew what a republic was and understood the significance of the celebrations. Read their responses here.
9.05am: RSS Chief Mohan Bhagwat unfurls tricolour at a school in Kerala's Palakkad.
8.50am: Mobile services in Kashmir Valley are suspended ahead of Republic Day parade. Services are expected to resume around midday.
8.42am: BJP chief Amit Shah unfurls tricolour at the party headquarters in Delhi.
8.41am: Barricades have been put up on all major roads leading to the parade venue. Policemen check vehicles while also informing people about diversions.
8.40am: The national capital has been put under a security blanket with thousands of security personnel, anti-aircraft guns and sharpshooters deployed in view of the Republic Day parade.
8.35am: Mobile internet services have been snapped in Kashmir as a precautionary measure on the occasion of the Republic Day. The internet services on mobile phones and data cards were suspended Thursday as part of the security drill of the Republic Day.
8.30am: Republic Day parade in Thiruvananthapuram.
8.10am: Republic Day Parade begins in Chennai.
8.08am: On the eve of Republic Day, President Ram Nath Kovind on Thursday called for a "civic-minded" society where one can disagree with views, or even with a historical context, without mocking the other person's dignity. Read the President's full Republic Day speech here.
7.16am: The entry and exit from Central Secretariat and Udyog metro stations is closed from 5am till 12 noon. The entry and exit from metro stations Lok Kalyan Marg (formerly known as Race Course) and Patel Chowk will be closed from 8.45 am till 12 noon.
7.10am: The parade will start at 9:50 am from Vijay Chowk and proceed towards the Red Fort Grounds through the Rajpath, India Gate, Tilak Marg, Bahadur Shah Zafar Marg and Netaji Subhash Marg.
7am: With help from 'Google Maps' that will guide people on traffic restrictions and alternative routes in place for the Republic Day parade, the Delhi Traffic Police will be ensuring Delhiites do not face inconvenience when they step out on Friday.
6.40am: Congress president Rahul Gandhi on Thursday urged the people to renew their pledge to defend and protect the Constitution and the values — justice, liberty, equality and fraternity — enshrined in it.
6.30am: Delhi Traffic Police issues advisory on traffic arrangements for Republic Day celebrations.
6.10am: Sand artist Sudarsan Pattnaik greets countrymen on Republic Day.
6am: Prime Minister Narendra Modi greeted the nation on occasion of India's 69th Republic Day.