Kolkata: West Bengal government on Friday announced fresh Covid-19 restrictions. As per the new order, shopping complexes, malls, beauty parlours, cinema halls, restaurants, bars, gyms and sports complexes will remain closed until further orders.
The decision comes just a day after the conclusion of 8-phase assembly election in the state. 
ALSO READ | 'All Arms Of Govt Working Unitedly & Rapidly': PM Modi Tells Union Council Of Ministers In Meeting Over Covid Crisis
West Bengal government has now imposed the following restrictions in the state:
Shopping complexes, malls, beauty parlours, cinema halls, restaurants, bars, gyms and sports complexes will remain closed.

Online services and home delivery permitted.

All social/cultural/academic entertainment-related gatherings and congregations prohibited.

Bazaars/Haats will remain open only from 7 to 10 am in the morning and 3 to 5 pm in the afternoon.

Essential services to remain outside the said time restrictions.
As for the restrictions related to election result announcement day (May 2), the order states that "All activities related to electoral counting processes and victory rallies/processions will be guided by the guidelines already issued by the ECI".
"Unnecessary congregations in the neighbourhoods of counting halls will also be discouraged and restricted and will have to abide by the physical distancing norms and other Covid appropriate behaviour," it adds stating that "it has to be ensured that crowding/loitering near the counting venue is averted".
Here is a copy of the order: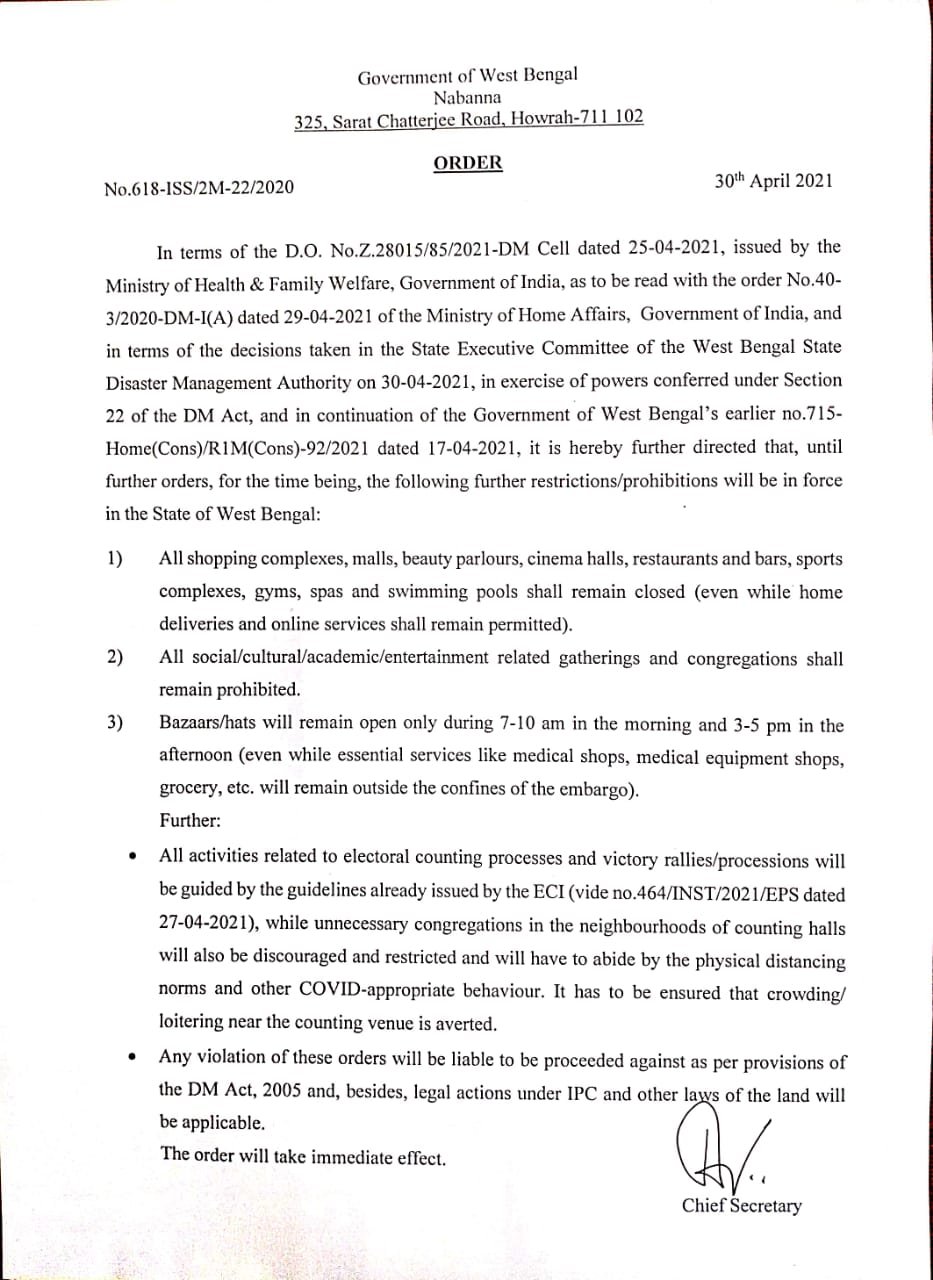 (Source: ANI)
Election & Covid Surge
Over 76 per cent voter turnout was recorded till 5:30 pm during polling for the eighth and final phase of the West Bengal Assembly elections on Thursday.
The overall polling process was reported to be peaceful barring a few stray incidents of violence. Earlier in the day, firecrackers were set off outside central Kolkata's Mahajati Sadan, which were initially alleged to be crude bombs but the preliminary investigation revealed that banned firecrackers were set off and not bombs.
The extensive 8-phase polling preceded by mass campaigning by political parties is being seen as the reason behind the surge of Coronavirus cases in the state.
With two phases remaining, Election Commission had banned all physical and vehicle rallies taking note of Coronavirus norms violation. 
In the latest figures, West Bengal recorded 17,403 new Covid-19 cases on Thursday taking the total tally to 8,10,955. The overall death toll was reported to be 11,248 with 89 new fatalities. Total active cases in the state are 1,10,241.
Meanwhile, the Election results are going to be announced on Sunday after the counting of votes. EC has been directed to ensure proper Covid norms and parties have been asked to not indulge in major victory celebrations/processions in view of the current situation.