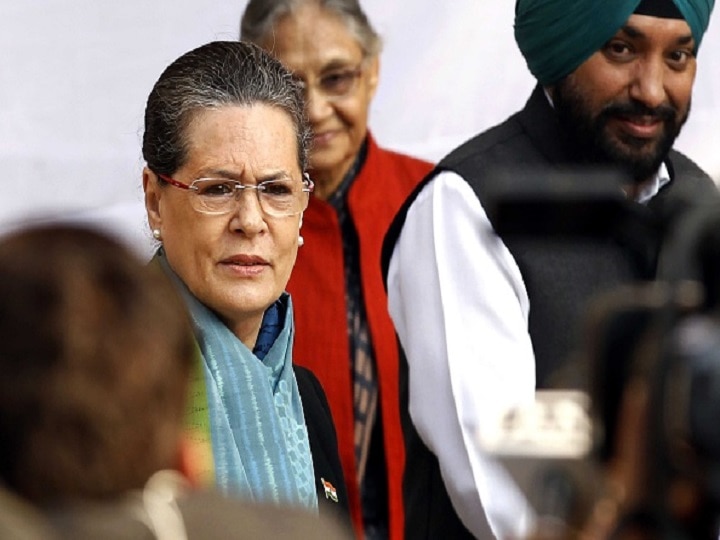 New Delhi: The Congress Working Committee (CWC) on Friday demanded a Joint Paliamentary Probe (JPC) into the purported WhatsApp chat of news anchor of a media organisation for breach of national security and violations of Official Secrets Act and book those involved.
Attacking the government of its alleged silence over the issue, Congress interim president Sonia Gandhi said that WhatsApp chat of the news anchor on Balakot strike is 'deafening'. ALSO READ | CWC: Poll To Appoint New Congress Chief Delayed Again, Sonia Gandhi To Remain Interim President
Sonia Gandhi, who chaired the CWC meet, said in her opening remarks that there have been "very disturbing reports" on how national security has been "so thoroughly compromised".
Referring to former Defence Minister AK Antony dubbing the leaking of official secrets of military operations as treason, Sonia Gandhi said the silence from the government's side is deafening.
"Those who give certificates of patriotism and nationalism to others now stand totally exposed," the Congress chief said.
It is being said that more than 50 pages of alleged WhatsApp conversations of the news anchor and former BARC CEO are also part of the TRP fixing case which came to light in December last year. These chats allegedly show how how the news anchor used his access to government's top offices to fix his business interests. 
"The CWC demands a time-bound investigation by a Joint Parliamentary Committee to enquire into the breach of national security, violations of Official Secrets Act and the role of the persons involved. Ultimately, those who are guilty of treacherous behaviour must be brought before the law and punished," the CWC resolution said.
ALSO READ | Budget 2021 Expectations: NEP, Loan Rebates & More – What The Education Sector Expects From FM Sitharaman
"It is clear that among those involved are persons in the highest echelons of government and there has been a breach of secrecy concerning vital and sensitive military operations. The revelations also point to inexcusable and deliberate subservion of government structures, scandalous and extraneous influence over government policies, and a vicious attack on the independence of the judiciary," the resolution also said.
The CWC also expressed shock that even days after the revelations, the prime minister and central government remained silent on the issue as though the storm will pass. 
The conversation is dated back to February 23, 2019, three days before fighter jets of the Indian Air Force (IAF) entered Pakistan's Balakot to destroy a Jaish-e-Mohammad terror base, which was a well-taken revenger for the terror attack in Pulwama which took lives of 40 CRPF jawans.