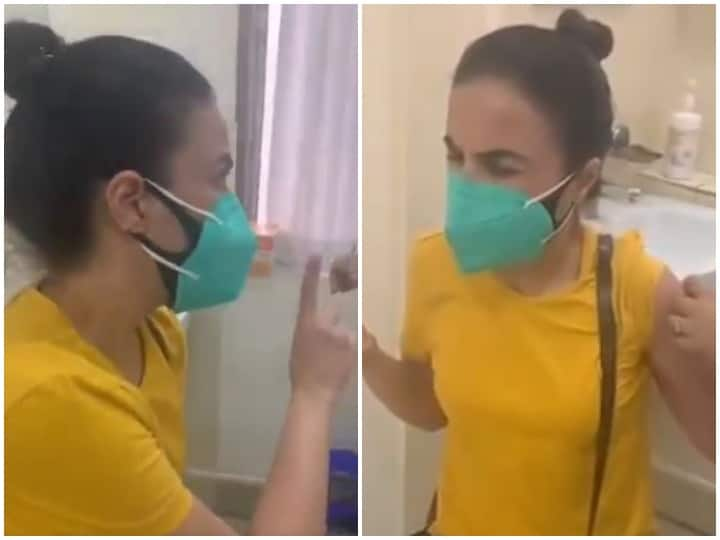 New Delhi: With the state governments starting the Covid-19 vaccination for all above 18 years of age from May 1 amid the unprecedented surge in cases, several videos are doing the rounds on social media showing the needle phobia. A fresh video has now gone viral wherein a girl can be seen screaming on seeing the injection.
In this video which has grabbed several eyeballs and is trending on social media, the girl can be seen sitting on a chair for vaccination. The girl looks all scared as the doctor comes close with an injection in his hand and asks him to wait for a minute.
In the meantime, the man who accompanied her grabs the girl and shuts her mouth. The girl starts shouting even after this which makes even the doctor get livid.
As soon as the doctor goes for the injection, the girl says "at least I can speak to mummy".
READ: Covid Second Wave: 7 Million Indians 'Lost Jobs' In April; Aviation Industry On Verge Of Collapse
"Don't say anything, sit in peace," the doctor responds and finally after the vaccine tells her irately "get lost".
The people on social media are making fun of this girl with some even stating it to be "overacting" and a "girl's play".
It is not known from where the video was originated. But we hope the girl is doing well and is safe & healthy.
The video gave us a reminder of a 2019 paragliding video that had gone viral on social media for its hilariocity . The youth named Vipin Sahu was heard saying in the 'Land Kara De' paragliding video that he was ready to offer Rs 200 to Rs 300 more to his instructor to help him land safely.
Check out below Health Tools-
Calculate Your Body Mass Index ( BMI )
Calculate The Age Through Age Calculator